We're doing stuff to get the Western Gateway company ready for the ICO.
We'll announce the commencement date of the Finger Lakes ICO soon.
Bear with us. #urbroadband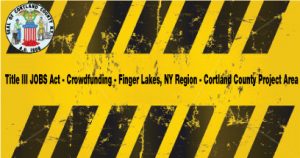 All offerings may be viewed at
www.urbroadband.com
. All offerings are for JOBS Act securities projects for carrier-neutral white space technology infrastructure-only projects for rural America. All existing companies for offerings have a Form Regulation D, JOBS Act, registration made with the United States Securities and Exchange Commission, and all such offerings are made pursuant to Rule 506 JOBS Act regulations. Accredited investors only. Accreditation accomplished by Crowdentials, Inc. All offerings are made by the Issuer, Tony Ramos, and there are no brokers, dealers, agents or selling agents of any kind on the projects. All investments are made for the purposes of investment only, and there are no sales commissions related to the sale of these offerings made or charged by or to anyone. Offers are made solely for the purposes of providing investor opportunities and the Issuer, or any of the offering companies do not provide any type of advice, accounting, investing, legal, strategic or otherwise. A copy of our offering circular and Private Placement Memorandum is available to accredited investors, or to their representatives, upon request. For further information, please
contact us
.